This picture is taken a couple of days ago. It was a cold day with snow on the ground – but also with a sun shining from a clear sky. I was wandering about in Northwest, a part of Copenhagen that has a reputation for being a bit worn down.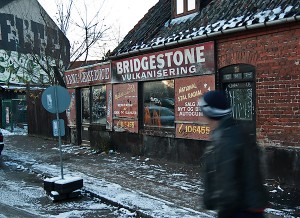 The picture of Arne's tyre-shop is slightly cropped, but the colours are as I saw them.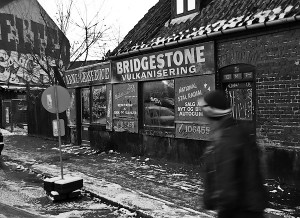 However, I find the colour version a bit too messy, so I tried a monochrome version.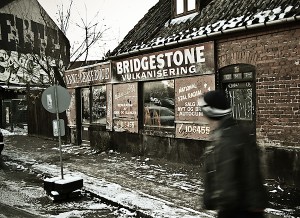 But frankly, the monochrome version is a bit dull. So, this is the final version: among other effects it has been desaturated, but still with a bit of red, and contrast has been cranked up quite a bit.
I'm still having a discussion with myself about this version: is it the best – or is it overdone? Visually, I'm in no doubt that this is the most interesting version. But it also has become quite gloomy – a far bit away from the original scenery on that sunny day, as I remember it.