Zoriah is a man with only one name. He is also a photographer. According to himself he used to work for humanitarian organizations, but got tired of too much "red tape". So he trained himself to be a photographer instead, in order to be able to document the sufferings – human made as well as results of natural catastrophes – which he though got too little attention from the media.
Zoriah is a freelancer, but has – again according to his own CV – photographed war and catastrophes for a number of NGO's and magazines. His pictures can also be seen on Flickr. His style is raw, direct and very subjective. According to himself he has no wish to be objective, but deliberately chooses the viewpoint of the victims.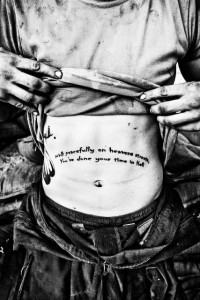 Lately Zoriah has been "embedded" with the US Marines in Iraq. Being embedded means that you are allowed to follow the soldiers on missions and are under some protection. As part of the agreement, you are obliged to follow the army rules as to what you are allowed to photograph. Not an ideal situation for an independent photographer. But according to Zoriah it is the only possible way to work in a warzone such as Iraq, unless you have the money to hire your own private security guards.
A few days ago, Zoriahs status as embedded was suddenly revoked – thereby practically making it impossible for him to continue photographing in the Iraqi warzone. The reason was some pictures from a suicide bomb attack. The victims were Iraqi civilians as well as US Marines. Zoriah has published the pictures on his blog, as part of his ongoing reports from Iraq. These are cruel pictures indeed. But unfortunately it is also pictures of the present realities in Iraq. Zoriah is certainly not promoting cruelty for its own sake, but simply trying to convey his own impressions. He is also obeying to formal army rules, which states that not dead US soldier must be photographed in any identifiable way.
Never the less the US Marines demanded that Zoriah removed the photos from his blog. He refused. Then his status as embedded photographer was revoked, and he was immediately transported out of the war zone. Zoriah maintains that his pictures are a necessary contribution the documentation of present day Iraq. As he says: "It seemed insane to me that the Marines would embed a war photographer and then be upset when photographs were taken of war."