I have a Samsung galaxy 8.9 tablet. I'm generally pleased with. The size is fine, the hardware is fine – and so is Android, more or less……
There are some areas of the Android 3.2 that comes with the tablet, which could have been more refined. But what is worse: it is not completely stable. And as I've had more and more apps installed – and uninstalled – it's been so unstable, that it freezes at least once a day.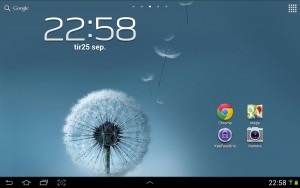 That is of course extremely annoying, so I have been looking forward to Samsung delivering an update to Android 4. According to semi-official promises and totally un-official rumors, it has been just around the corner for several months. However, at present it has only arrived in the United States, as far as I know – but not in Denmark. And when I wrote to Samsung support a few weeks ago, and asked when we could expect it, they replier that they hadn't the faintest idea….
That might reveal something about Samsungs respect for their customer base, which you can take into account when buying your next tablet. But until then you can actually upgrade to Android 4, even in Denmark (and the rest of the world). All it takes are a few ninja tricks.
First you need to download the Android 4 ROM that Samsung has released in the United States from here.
Then you need to install it. In brief, this is done by first installing a program called ODIN on a PC, connecting your tablet to the PC with the USB cable, boot to download mode and install the update.
You will find a detailed explanation of how to do that here, where you will also be able to download a toolkit containing both ODIN and the necessary drivers. The explanation and the toolkit is actually intended for installation of a so-called custom ROM, ie. an alternative Android version. But you can just skip that part and install the Samsung version mentioned above. It is not necessary to root the tablet or engage similar complex things. While it may be difficult to install a custom ROM, this operation quite easy.
What do you get from it? A newer Android and improved Touchwiz, which works faster, more stable and in general more consistent – almost like a new tablet 🙂
Although it is an American version, I have not experienced any problems with my Google account or Google Play, and it is not a problem to select Danish language, keyboard, etc. You will need to re-install your apps – and make shure, you have a backup of your data.