In the posting "Lightroom blues" I whined about LR's poor JPG-export capabilities.  In a comment Carsten Fredsted proposed a solution, which has proved to be very convincing.
First of all, you should install Mogrify. This is a program, which will convert from one picture file format to another, with a lot of user settings. However, the program is command line driven.
That's why you should also install the LR/Mogrify plug-in for Lightroom. After doing so, you will have access to all the advanced functions of Mogrify via dialog boxes, directly from within LR's export menu.
Basically, you will then ask Lightroom to export as a TIFF-file – which Mogrify will then pick up, and automagically transmogrify to a JPG-file, based on your settings for size, sharpening and compression.
This is the photo from the original post, but this time it is exported from Lightroom with the help of LR/Mogrify. The result is clearly much better than with LR's own JPG-eksport: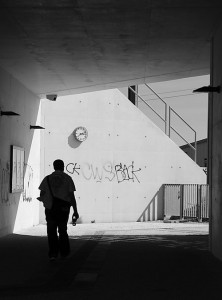 You can of course do batch-export with LR/Mogrify. However, the base version is limited to 10 photos at a time. You will have to donate an amount of your own choice to the developer, to get access to the unlimited version.
It should also be noted, that LR/Mogrify can be integrated into other plug-ins, such as this one, which allows for direct export to your Flickr-account.
Verdict: Highly recommended!