Now the sweet bells of mercy
Drift through the evening trees
Young men on the corner
Like scattered leaves
The boarded up windows
The empty streets
While my brother's down on his knees
My city of ruins
My city of ruins
Come on rise up! Come on rise up!
Bruce Springsteen
With publications such as "Ruins of Detroit" og "Detroit Disassembled", the Motor City has become quite en vogue lately photographically. Admittedly, the ruins from the city's grand industrial past are spectacular.  Especially when you, as the authors of the above mentioned books, have had – or simply taken – the opportunity to climb in behind the plywood barriers and barbed wire, to take a look inside.
However, it should be remembered, that even though Detroit has lost more than half of its population since the peak of the auto-industry in the 1960's, there are still more than 700.000 people living there.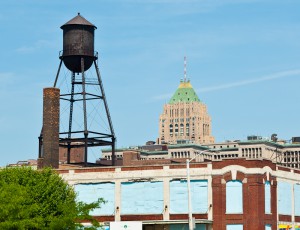 Detroit is certainly much more than ruins from the past. Never the less, especially to a visitor from Europe, it is a very special place: within a few 100 meters you will pass from run down, abandoned residential areas, through cozy middle class neighborhoods and back again to places, that looks as if they had been struck by some kind of natural disaster. Reaganomics and lately the recent depression have been hard on Detroit, forcing authorities to close down schools, fire stations and other public utilities in some neighborhoods. Never the less, there are still a lot of people who believe in Detroit, and strive to make it a better, more livable place.
In the beginning of June, I had the privileged of staying for more than a week in Dearborn, to do research at the Benson Ford Research Center, which is an archive for the history of the Ford Motor Company. Dearborn is a suburb, some 20 km's outside Detroit. Since public transport is quite limited, going from Dearborn to Detroit for just a short trip, was not really an option. Instead, I went there early one morning, rented a bike, and spent 9 hours riding around, mainly in the areas between downtown and Highland Park.
A single day is of course far from enough to get to know a city. But at least I got some firsthand impressions – some of which are reflected in the photos below: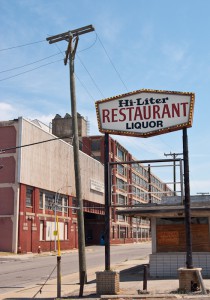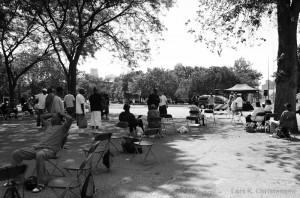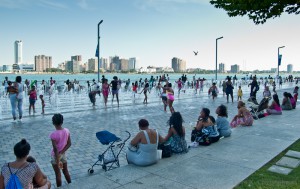 More pictures from Detroit can be found on my Flickr page.