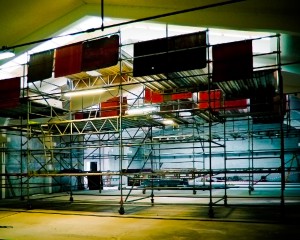 Building 4 is the former dyeing-hall at BredeTextile Mill. The mill is now part of the National museum, and the building is being renovated for use as an exhibition hall, for the exhibition of the cultural history of industrial society.
I have a special feeling of attachment to building 4. Not only is it a beautifulindustrial building in its own right. But I'm also responsible for the content in this part of the exhibition. In a cooperation between colleagues of the museum, designers and film-makers, we are planning to make building 4 come alive again as a textilemill, through extensive use of video, sound and lightning.
Handheld at 1/30 sec. with Pentax K10D and Sigma 18-50 2.8 EX.  "Cross-processed" in Photoshop.