Part 4: Structures and shadows
It's arguable, that Photographs – a retrospective (Fotografisk center, 1999) by Marianne Engberg doesn't belong on this list, since the photographer has lived and worked in New York since 1968. But after all she is Danish by birth and her book is Danish by origin.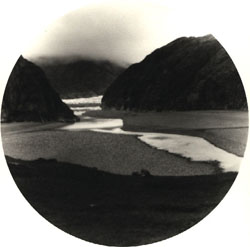 Normally we would probably just smile a little if a person claims, that using a certain camera – be that a Nikon, a Hasselblad or whatever – would in itself make him or her a better photographer. It's the result, not the equipment that matters, we would say. But for some funny reason, this doesn't seem to be the case when the equipment in question is either old-fashioned or "retro" in some other way. A crappy Lomo is hip and shooting on wet plates is almost a guarantee that the outcome is art…
The introductory essay on Engberg in this book explains in detail how and why she sold her Nikons and Hasselblads and turned to building her own pin-hole cameras out of cereal boxes. This explains why her photographs are circular, which is nice to know. Apart from that, I really don't care.
Engberg shows us pictures of landscapes, cityscapes, shadows and still life. Throughout the book, her motives become more and more abstract and graphical, to the point where they are just shadows, created directly on the print with no camera involved.
There is a certain tranquillity and dreamlike quality in Engbergs work. Especially her pictures of shadows fascinate me. But all in all, this book leaves me a bit under-nourished. It's not only a small book – it's also a book about a small world. My thoughts starts to drift away and I begin wondering what is outside the perfectly rounded shape of these pictures.
Graphical is also the central term, when describing the works of Keld Helmer-Petersen. It has been said about Helmer-Petersen, that he is more well-known as an artist abroad than in his own country. It is a fact, that his first book was published simultaneously in Danish and English. It was 122 Colour Photographs (1948). The subject of this pioneering effort in colour photography was machine parts, signs, details of buildings – all with a graphically strong and colourful appearance.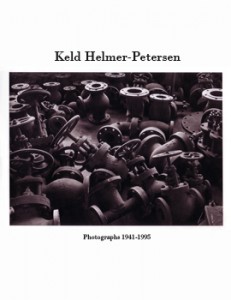 A few years later, Helmer-Petersen went to the US and Mexico on a study trip. One of the results was a series of photos from Chicago – published as Fragments of a city – consisting of light posts, stairways, window frames and other elements of the cityscapes. Again, the pictures were very graphical, but now in black and white, many of them reduced to black silhouettes on a light background.
Structures in black and white became the signature of Helmer-Petersen, as can be seen in no less than two large retrospective volumes. The first one is Frameworks – Photographs 1950-1990 (Hans Reitzel Publishers, 1993) while the last – and most comprehensive – is Photographs 1941-1995 (Christian Ejlers Publishers, 2007).
Helmer-Petersens is a remarkable pioneer of modernist photography. However, in retrospect it seems to me, that some of his photography – especially that of the 60's – is mostly interesting today as typical signs of their time. To me, he's earliest contributions, not the least the colour photographs of the late 1940's, is still the most impressive. The colours photographs, by the way, are only included in the last of the retrospective volumes mentioned above.
Epilogue
As noted in part 1, this list has been put together out of personal interest. I claim no professional authority what so ever in this field. And there is a distinct possibility, that I have overlooked an important book or two…
However, what bothers me most is the fact, that some of the Danish photographers that I personally value very much are missing – for the simple reason, that they have not been published in English (as far as I know). Just to mention the most obvious:
Viggo Rivad, who, since the late 1940's has been a central figure in Danish photography. His photos and essays are in the tradition of European documentary. I've accidentally placed one of his books between Bresson and Kertesz on my bookshelf – they seem to get along well…
Marianne Grøndahl, who is a master of intimacy. Some of her portraits of artists are a bit introvert to my taste. But on a good day, when she takes her camera with her out into the world, she creates small miracles.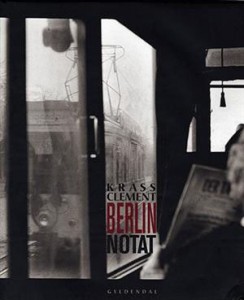 Krass Clement, who embodies classicism and experiments in one person. To me, he is first and foremost a master in depicting modern city life in all its complexity – mostly with a slight touch of melancholy.
Clement is maybe the most obvious example of the limitations inherent in the list above. His book Berlin notat ("Berlin notes", Gyldendal, 2005) is not on the list, since it is principally in Danish language. However, a part from the title it is practically without text – it doesn't even have captions. But as a collection of photographs, it's fantastic.
Sometimes you are well advised, not to let a few foreign words get between you and a masterpiece.
The end.
Previous: Danish photography in english – part 1, Danish photography in english – part 2, Danish photography in english – part 3