Originally, cross-processing was a technique where a certain type of film was processed in a way suitable for another type of film – eg. a colour slide film was processed like it was a colour negative film.
The typical result would be pictures with excessive contrast, burned out highlights and a characteristic shift of hues, such as blue shadows and yellow highlights.  This look was very popular some 10-15 years ago, not the least among fashion photographers.
I have mixed feelings towards effects like cross-processing, duo-tone, solarisation, etc., which alters the original colours of the scene drastically. Sometimes it becomes style more than content. On the other hand, I must admit that such techniques can enhance the feeling in some scenes.
Anyway, I thought it could be interesting to play around with the digital equivalent of cross-processing.  And I had a number of pictures from derelict industrial buildings, which I found suitable for the experiment.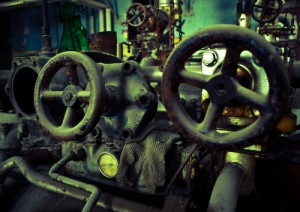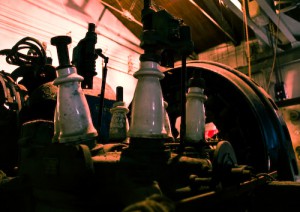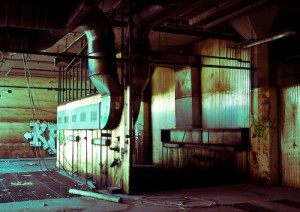 As these pictures are born digital, they have need seen chemicals of any kind. The effect is created in Lightroom. First by enhancing the contrast. Then by using "Split toning" to introduce separate shifts of hue in highlights and shadows. And then finally fine-tuning with "Vibrance".
One advantage of digital "cross-processing" is that you can choose the colour cast as you wish. In this case, the picture from the cold-store is probably the one that resembles the original cross-processing the most.