In recent years, my DSLR has been a Pentax K10D. It is in many ways an excellent camera, but it also has its weaknesses, and since the model was launched in 2006, it is in many ways outdated by today's standard. In fact, Pentax has launched four new top models since K10D. Finally, I thought it was time for a replacement, and have bought a K-5 II. These are some of my first impressions after a few weeks of use. The target audience is primarily other Pentax users, who might be considering an upgrade. The exterior first: the K-5 II (as the K-5 and K-7 before) is slightly smaller than the K10D (and K20D), and it is 33 g lighter. I think it's nice that Pentax tries to live up to its history of building compact cameras – K10D was actually a bit too large for my taste. However, it is still a camera with some heft, reflecting the solid build quality, where steel and magnesium is used more than plastic. The body is, like the K10D, sealed against dust and moisture.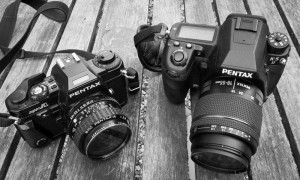 The camera has a fairly deep grip, which fits nicely in my medium-sized hand. The ergonomics follows the tradition of previous top models from Pentax, with a display on the top plate and two scroll-wheels placed where you will naturally place your thumb and forefinger. It obviously has the hyper-program mode. The two rotary wheels can also be programmed: For example, if the front or rear wheel should be used for selecting aperture when in aperture priority mode, and if the other wheel should be used for to change the ISO or set the EV-compensation. While the two scroll-wheels are basically unchanged from the K10D, other buttons has been moved around. There is no longer a button to turn image stabilization off and on – which is fine with me, since I always have it turned on. On the other hand there is now a dedicated ISO-button. It's placed just behind the shutter release, together with the EV-compensation, making it easy to move your forefinger to one of them and do the adjustment by turning the scroll-wheel with your thumb.
All in all the button layout is logical and intuitive, and even a little better than the otherwise excellent K10D. The only miss is the button for activating Live View which is located such, that it is possible to activate it by accident when you turn the lever that selects focusing mode. That lever which can be set to one of three positions (center focus, individual choice of focus point and auto-selection) is a little tight. But then again: this prevents moving it by accident.
The first time you press the shutter release, you will also notice that the sound of shutter-sound is very well damped. Compared to K10D (but not so much to more recent models) the screen on the back has been upgraded considerably. It is now 3" with 921.000 dots. Contrary to the original K-5 it is covered with scratch resistant glass and mounted in a new way, which is supposed to improve visibility in sunlight. Anyway it is quite bright – so bright, that you may get the impression that your pictures are over-exposed, when looking at the screen in more subdued light. The solution to that is of course to rely on the histogram, when checking the exposure. Menus and the info-screen have also been updated, and especially the latter is now very clear and functional. Live View and video (in full HD) are new features, compared to my old camera.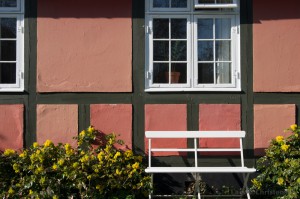 I haven't tried them out systematically yet, but my first impression is that live view is functioning well, with quite fast AF. Image quality of the videos is fine, even when shooting handheld. The only drawback is that there is no AF during video-recording. In any case: to me video is mostly a supplement to the main function of the camera.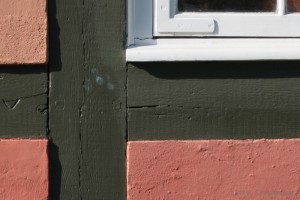 Apart from these new features and all the small improvements in ergonomics and handling, it is in two important aspects that the K-5 II really stands out from the K10D: image quality and autofocus.DxO has tested the image quality to be among the very best in the APS-C class, and even comparable to some full-frame cameras. The resolution has been raised from 10 Mp in the K10D to 16 Mp. But equally important: the dynamic range is high and the noise level is low, even at relatively high ISO. I have not yet printed any photos from the K-5 II yet, but pixel-peeping on the screen at 100% tells me, that 800 ISO a no-brainer. At ISO 1600 the noise becomes clearly visible, but not so much that it cannot be subdued in Lightroom. I have yet to really try out the higher ISO numbers.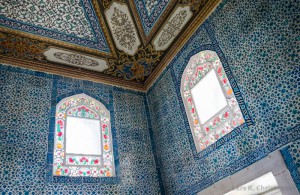 Autofocus used to be a somewhat weak point for Pentax, but it has now been substantially improved. Compared to K10D the K-5 II focuses much faster and more reliably. At the same time autofocus can be used down to -3 EV, which is almost complete darkness. Continuous autofocus, which worked a little so-so in the K10D, now works fine. Continuous shooting is done with 7 frames per second.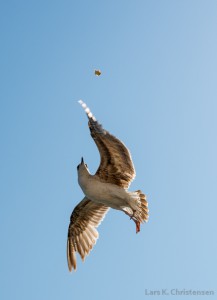 Together, these improvements mean two things: K-5 II can actually be used for fast moving subjects – something that was not exactly K10D's strong point. And the combination of built-in image stabilization, low noise at high ISO numbers and an autofocus which works almost in complete darkness makes K-5 II an excellent tool for available light photography.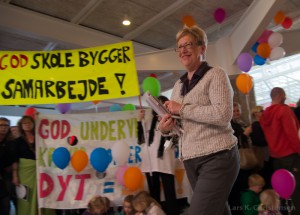 K-5 II is available in two versions. In addition to the "normal" one, Pentax has decided – like Leica and Nikon has done previously – to offer a model without low-pass filter, called K-5 IIs. The low pass filter prevents moiré in certain motifs, but it also reduces the sharpness slightly. However, since the image quality from the K-5 II is already high, and since you pay around 200 € extra for the absence of the low pass filter, I opted for the standard model. All in all, I'm pretty excited about the K-5 II. Of course some unexpected issues may appear in the long – we will have to see…