On the night of November 9, 1938, the Nazis attacked Jewish homes, shops and synagogues all over Germany, effectively initiating the holocaust. This horrible night has since become known as the Kristallnacht – or Crystal night – because of all the shattered glass in the streets.
The Kristallnacht is commemorated every year in central Copenhagen, as a manifestation for human rights, against racism and fascism. This year there were speakers, among them Hans Goldstein, a surviving eyewitness of the Kristalnacht, music and torches. It was a small, but dignified and moving manifestation.
Here are a few pictures – a few more can be seen on Flickr.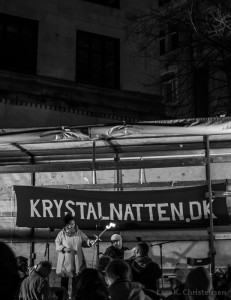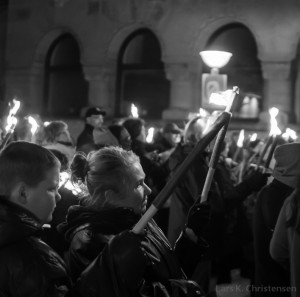 On a photographic note, I used one of my old lenses, the Sigma 28 1.8 aspherical. I like this lens a lot, since it is compact, but with good image quality. The 28 mm translates into the equivalent of 42 mm in FF-terms, a focal length which I find very useful as a "short normal". And 1.8 is of course quite fast, and even though it was very dark, I was able to get some decent handheld shots at ISO 1600 and 3200.
But the evening also revealed one of the shortcomings of this old lens: it is not coated for digital and therefore it is very prone to flare. Especially at night in the city, when it is dark but with a lot of bright, pointed sources of light. Luckily, when converted to black and white, the flares become less obvious. But for colour, it makes the lens almost unusable at night – despite all of its other qualities.
Maybe it's time for a replacement……